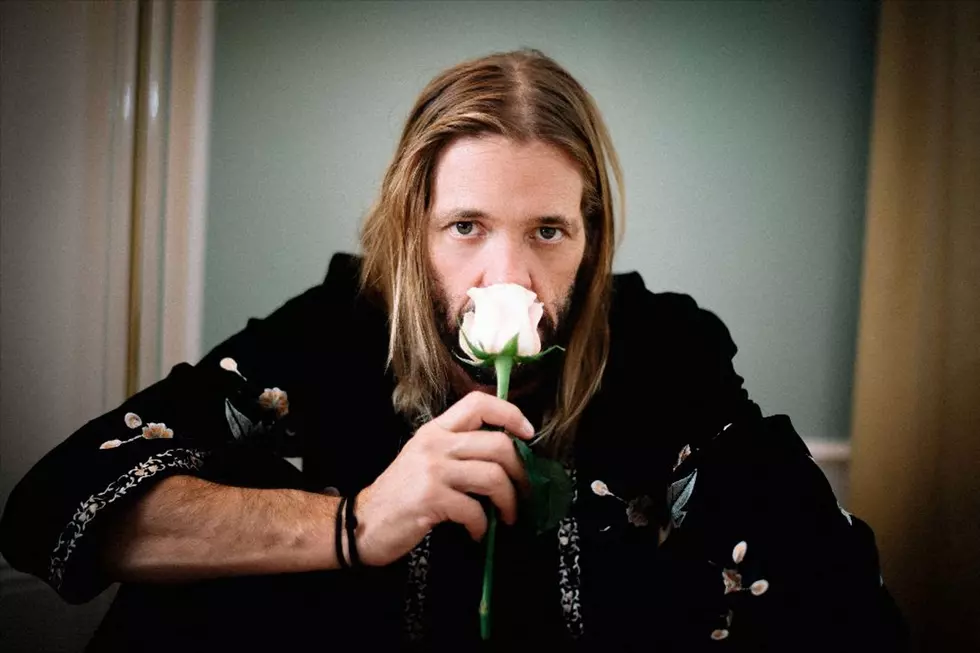 One Year Ago: Foo Fighters Drummer Taylor Hawkins Died
Oliver Halfin, Getty Images
On March 25, 2022, the music world lost one of its great talents and the rock world lost one of its biggest champions as Foo Fighters drummer Taylor Hawkins died at the age of 50.
The musician had been in Bogota, Colombia with the band as they were set to play the first to two dates over the weekend in South America. News of Hawkins' death was confirmed by the band who issued a statement just hours after learning of his passing.
It read: "The Foo Fighters family is devastated by the tragic and untimely loss of our beloved Taylor Hawkins, His musical spirit and infectious laughter will live on with all of us forever. Our hearts go out to his wife, children and family, and we ask that their privacy be treated with the utmost respect in this unimaginably difficult time."
He was discovered in his hotel room, just hours before the band was set to perform. Health officials said that Bogotá's emergency regulatory center received a report of a patient with chest pain. They responded to the call, performing resuscitation maneuvers, but were ultimately unsuccessful.
Shortly after his passing, Colombia's attorney general release a toxicology report that revealed the musician had 10 different substances in his body at the time of his death. An official cause of death was never released.
In the aftermath of Hawkins' death, the tributes were plentiful.
Ozzy Osbourne, who had just played with Hawkins on his Patient Number 9 album, stated, "[He] was truly a great person and an amazing musician. My heart, my love and my condolences go out to his wife, his children, his family, his band and his fans."
Mike Portnoy added, "In absolute shock and disbelief over the the passing of Taylor Hawkins. I've always had so much admiration for him. Amazing drummer and a gem of a guy who was always fun to be around. I'm absolutely gutted."
Disturbed's David Draiman commented, "I've seen a lot of live bands in my time and I can honestly say that I have never seen a drummer and guitar player interact in a more jovial, genuine, and entertaining way than how @taylorhawkins and #DaveGrohl did. One of the best in history. Devastated."
Close friend Chad Smith of the Red Hot Chili Peppers put together a video tribute to Hawkins. Even First Lady Jill Biden acknowledge Hawkins' death, calling the musician, "A ferocious drummer, dedicated father, and dear friend gone far too soon."
Musical tributes followed from Noel Gallagher, Miley Cyrus, Mammoth WVH, Underoath, Slash, Elton John, Daughtry, Mark Tremonti, Candlebox, Joan Jett, Aaron Lewis and Shinedown among others. He was saluted at the Grammys with a special tribute, while singer Billie Eilish sported a T-shirt with Hawkins' face.
Hawkins career spanned more than just his time in Foo Fighters. He got one of his first professional gigs serving as the touring drummer for female rock vocalist Sass Jordan in the early '90s. Then, he caught one of his first big breaks in music playing as part of Alanis Morissette's band during her Jagged Little Pill promotion. While celebrating the 20th anniversary of that album, she played the song "Ironic" on the opening night of the tour in London with images of the drummer on screen.
He also formed several bands outside of the Foo Fighters, including Taylor Hawkins and the Coattail Riders, Chevy Metal and the Birds of Satan. And in the months prior to his death, he had been releasing music under the moniker NHC, fronting a trio that included Jane's Addiction members Dave Navarro and Chris Chaney. In addition, he had a chance to show his acting chops, appearing as Iggy Pop in the 2012 film GBGB and appearing as himself in the 2022 horror comedy Studio 666.
While Foo Fighters understandably canceled their remaining dates for 2022 to mourn the death of Hawkins, they eventually returned to the concert stage in the fall announcing two tribute concerts - one taking place in London and a second in Los Angeles - with the Foo Fighters joined by a wealth of the acts that Hawkins loved and often championed.
Taylor's wife Alison commented, "We consider every band member and the extended Foo Fighters team our family." She went on to add, "As Taylor's wife, and on behalf of our children, I want to share how much you meant to him and how dedicated he was to 'knocking your socks off' during every performance." She later concluded her statement, saying, "In celebration of his life, it is now up to all of us who loved him most to honor Taylor's legacy and the music he gave us."
The London show had plenty of highlights, including Wolfgang Van Halen joining a Van Halen set, Lars Ulrich and Brian Johnson heading up an AC/DC set and a nod to Queen, but there was a focus on how Foo Fighters would handle the night. A tearful Dave Grohl got emotional upon playing "Times Like These," the first Foo Fighters song of the night played without Hawkins.
The Los Angeles concert also came with its share of memorable moments, including guest turns by Joan Jett, Ke$ha and the members of Rush, but one of the most heartwarming moments came with Shane Hawkins, Taylor's son, stepping behind the kit to play "My Hero" with the Foo Fighters.
READ MORE: In Memoriam - Rockers We Lost in 2022
As 2022 came to a close, Foo Fighters addressed the elephant in the room, revealing their intent to continue as a band in the aftermath of Hawkins' death. On New Year's Day, they issued a message stating, "As we say goodbye to the most difficult and tragic year that our band has ever known, we are reminded of how thankful we are for the people that we love and cherish most, and for the loved ones who are no longer with us."
"Foo Fighters were formed 27 years ago to represent the healing power of music and a continuation of life. And for the past 27 years our fans have built a worldwide community, a devoted support system that has helped us all get through the darkest of times together. A place to share our joy and our pain, our hopes and fears, and to join in a chorus of life together through music. Without Taylor, we never would have become the band that we were—and without Taylor, we know that we're going to be a different band going forward."
"We also know that you, the fans, meant as much to Taylor as he meant to you. And we know that when we see you again—and we will soon—he'll be there in spirit with all of us every night." Days later, they began announcing their first shows of 2023, though not revealing who would be manning the kit.
Revisit some of Taylor Hawkins' work below.
Taylor Hawkins Sings Queen's "Somebody to Love" With Foo Fighters
Taylor Hawkins Fronts Foo Fighters on "Cold Day In the Sun" on The Late Show With David Letterman
Taylor Hawkins and the Coattail Riders, "Middle Child"
NHC, "Lazy Eyes"
Alanis Morissette With Taylor Hawkins, "You Learn"
10 Times Bands Released New Songs or Albums Featuring Late Members + Musicians
These posthumous releases are a reminder an artist may be gone but never forgotten.