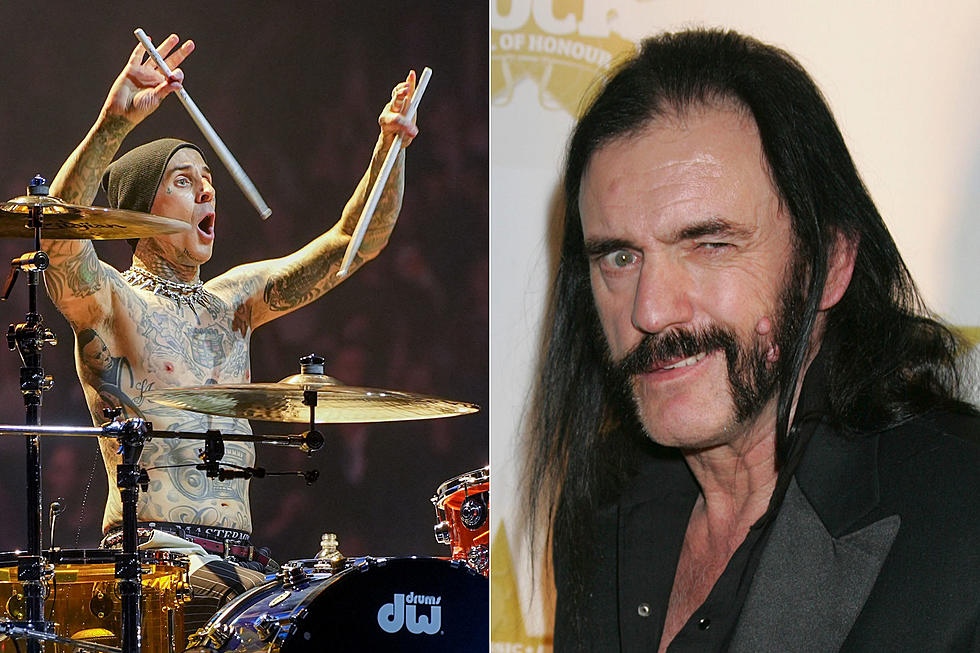 Why New Blink-182 Song Has Travis Barker Drawing Motorhead Comparison
Manny Carabel / Jo Hale, Getty Images
When you think of Blink-182 influences, Motorhead might not be at the top of the list, but as Travis Barker notes in a new posting on X, "Long live Lemmy." The Motorhead mention comes up as Barker was speaking to fans about the band's new song, "More Than You Know," which was released just last month.
The track was released alongside the Blink ballad "One More Time" which has been garnering more of the attention, but fans have also picked up on something of interest within "More Than You Know" that has Barker revealing that yes, he is indeed playing double bass drum.
"A lot of people asking if 'More than you know' has double bass. The answer is YES !!! The reason is, why not ?," says Barker, adding, "I've never recorded double bass on any songs, and I might not ever do it again in the future but this particular song called for it. It made the chorus part of the song feel like Motörhead to me. Long live Lemmy."
The drummer then dropped another influence on fans, revealing, "The bridge section of 'More than you know' was inspired by Black Coffee. The whole song is sort of disruptive and different in the best ways but still sounds like blink 182."
Did you notice Barker's drumming? The studio version of the track as well as some live performance footage posted by the band can be viewed below.
Blink-182, "More Than You Ever Know"
READ MORE: Fans Are Getting All Sorts of Emotional Over Blink-182's 'One More Time'
There's More Blink-182 on the Way
While fans are getting familiar with "One More Time" and "More Than You Know" along with last year's single "Edging," there's even more Blink-182 music coming this week. In their typical sophomoric humor, the band dropped a teaser with the guys dressed as Ramones-esque rockers and Tom DeLonge making a masturbation comment to an interviewer before we get a brief snippet of music.
The new song is called "Dance With Me" and the song and video will arrive this Thursday (Oct. 5) at 10AM ET / 7AM PT. Check out the teaser below.
The new Blink-182 album, One More Time ..., is due Oct. 20. It features the return of longtime guitarist and co-vocalist Tom DeLonge, who had been absent over the course of the band's last two studio albums with Matt Skiba filling in. Pre-orders are being taken here.
Rock + Metal Bands That Were Forced to Change Their Names
These bands were forced to change their names.
Gallery Credit: Lauryn Schaffner