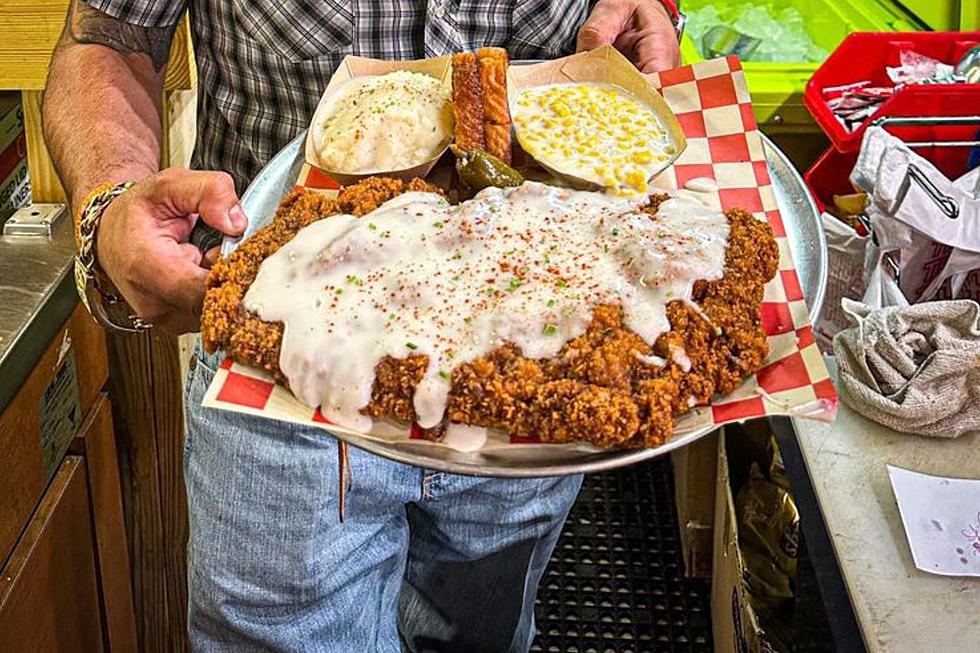 This Texas Restaurant's Enormous Chicken Fried Steak Has Everyone Drooling
The Wagon Wheel via Facebook
Everything's bigger in Texas, right? That's what this restaurant in Eagle Pass is proving with their huge chicken fried steaks that has the internet drooling!
By now, I think everyone has seen the huge chicken fried steaks at the Wagon Wheel in Eagle Pass. As someone who isn't from Eagle Pass, I came across the now viral post and I was stunned, stunned I tell you! Just check out the size of this!
Over eight thousand likes later, I knew that I had to do some more research!
The Wagon Wheel, located at 1824 Del Rio Blvd. in Eagle Pass, has been around since 1994, and apparently everyone but me knew that this magnificent beast existed! The restaurant has been featured in popular YouTube creators' videos and several articles have been written about it.
Enter your number to get our free mobile app
Recently, though, their chicken friend steak photos have circulated to the farthest depths of social media and everyone has the same reaction: the shocked "wow" emoji. Can you blame them?
Those chicken fried steaks look bigger than the servers!
Chicken fried steak is a country food I absolutely love. The gravy, the crunchy coating, the mashed potatoes- I love it all!
I know I'm in El Paso and we're very proud of our Mexican cuisine here, but sometimes, a chicken fried steak just hits the spot! If you also sometimes get a hankering for a good chicken friend steak and you find yourself in the Lone Star State- The Wagon Wheel looks like it will welcome you with open arms. Also, aside from their enormous chicken fried steak, their barbeque selection looks inviting.
You can find out more about The Wagon Wheel, and it's famous CFS, here.
The Ultimate Texas Bucket List