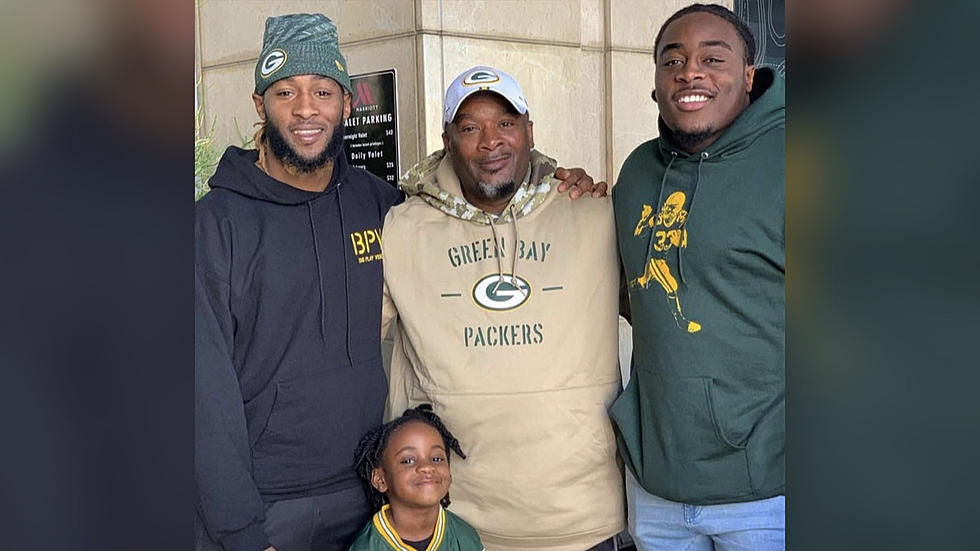 Family & Friends Hold Celebration Of Life For Alvin Jones Sr. A Year After His Death
Courtesy: A&A All The Way Foundation
A celebration of life was held this past Wednesday to honor a man that left his mark on the borderland through his family, service in the military, and his dedication to giving back to the youth in our community.
Alvin Jones Sr., the father of Former UTEP football stars Aaron & Alvin Jones, passed away exactly one year ago on April 6, 2021 and family and friends of the Jones family gathered in east El Paso outside of Aaron Jones' new bar, Showtyme, to celebrate his memory by releasing silver and blue balloons in honor of Alvin Sr.
"To a great person. His legacy will not be forgotten. Tonight we toast to you Mr. Alvin Jones Sr," read a post shared by Alvin Sr.'s daughter, Chelsi'Rae.
The star on the mountain was also lit in honor of Alvin Sr.'s memory.
Chelsi'Rae shared a picture of the star lighting certificate on her Twitter page with the caption reading, "Alvin Jones Sr. will forever live within us! Family over everything."
Alvin Sr. tragically passed away due to complications from COVID-19. Before his sudden death he, along with his wife and children, founded the A&A All The Way Foundation which is dedicated to making an impact in the lives of our nation's youth through charitable giving and action.
"Today we remember Alvin Jones Sr. He loved being a part of this foundation and helping the youth in our community. We are fueled by his memory to make a difference in the lives of others," read a post shared by the foundation on their Instagram page.
After serving 29-years in the military, Alvin Sr. retired and dedicated his life to supporting his children and grandchildren.
Alvin Sr.  was known to go to every Green Bay Packers game to cheer on his son, Aaron Jones.
Aaron always spoke highly of his father and even wrote about his relationship with his dad in a Player's Tribune article last year:
"My dad is the greatest man I've ever encountered," wrote Aaron. "He taught me everything. He showed me how a man's supposed to be a man."
Alvin Sr.'s memory will continue to live on through the selfless work his children do for the youth in our community and If you'd like to make a donation in honor of Alvin Jones Sr. you can do so by clicking here.