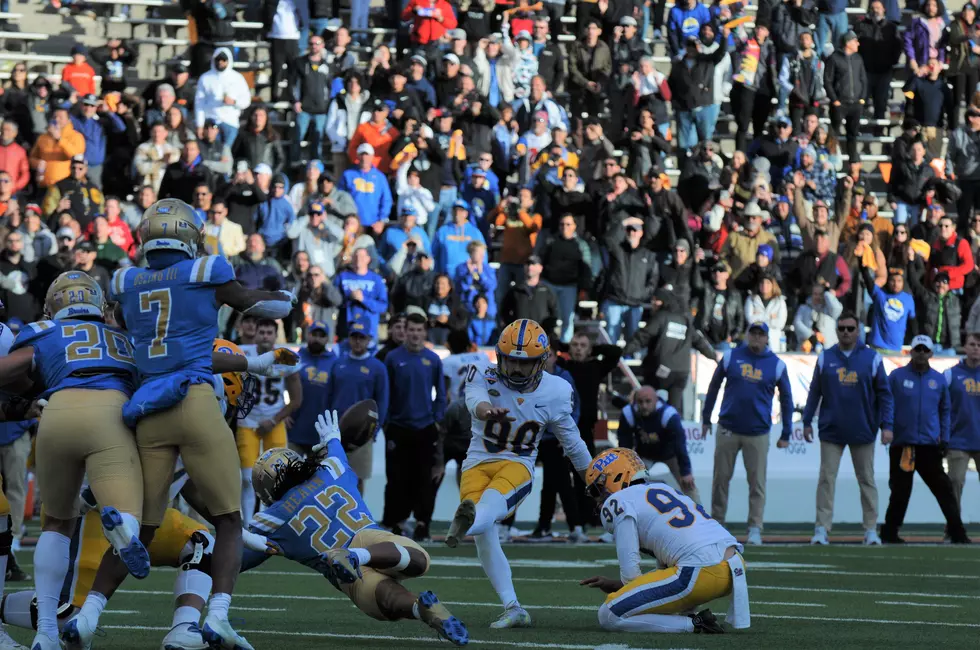 El Paso Wins with Wild Tony The Tiger Sun Bowl Finish
Steve Kaplowitz.
There is something magical about the annual Tony The Tiger Sun Bowl game. More often than not, the contest is up in the air until the final moments. The 2022 version did not disappoint as more than 41,000 fans enjoyed a terrific back and forth ballgame between UCLA and Pitt. A game-winning 47 yard field goal against the wind by the Panthers Ben Sauls with just four seconds left in the fourth quarter was the difference as Pitt squeaked out a 37-35 win over the Bruins.
Although Pitt backup running back Rodney Hammond Jr. was named the C.M. Hendricks Most Valuable Player, Sauls could have easily won the award as well. In total, he kicked five field goals for the Panthers, and he was named the John Folmer Most Valuable Special Teams Player. As for Hammond Jr., the sophomore ran for 89 yards and a pair of touchdowns to help propel the Pitt offense. Starting running back Israel Abanikanda, who leads the nation with 22 touchdowns was one of nine starters who either opted out of the game, declared for the NFL Draft, entered the transfer portal, or missed the contest due to injury.
Every time it looked like UCLA was in control, Pitt was able to battle back. Their defense forced five turnovers, including four interceptions. Bruins starting quarterback Dorian Thompson-Robinson was knocked out of the game in the second half and sophomore Ethan Garbers filled in admirably down the stretch. When T.J. Harden scored a on an eight-yard rush with :34 left in the game, it looked like head coach Chip Kelly and his Bruins would win their fourth Sun Bowl. However, two big completions and an 11-yard run by Pitt quarterback Nick Patti set up Sauls for the game winner.
Sun Bowl executive director Bernie Olivas told me during the game that he would be thrilled if attendance eclipsed the 40,000 mark. The announced crowd of 41,104 were thoroughly entertained throughout the contest and many of them stayed until the end. By the time M.J. Devonshire picked off Garbers on the game's final play to seal the win for Pitt, fans celebrated another classic Tony The Tiger Sun Bowl finish.
Some players even gave away their game worn shoes and other equipment to young fans who stuck around to greet them. It was the perfect ending for the final football game to be played in El Paso in 2022.
Pitt Comes Back Against UCLA to Win 2022 Tony The Tiger Sun Bowl
The Pitt Panthers came back from a 14-point deficit in the second half to defeat UCLA 37-35 in a wild finish at the 2022 Tony The Tiger Sun Bowl.