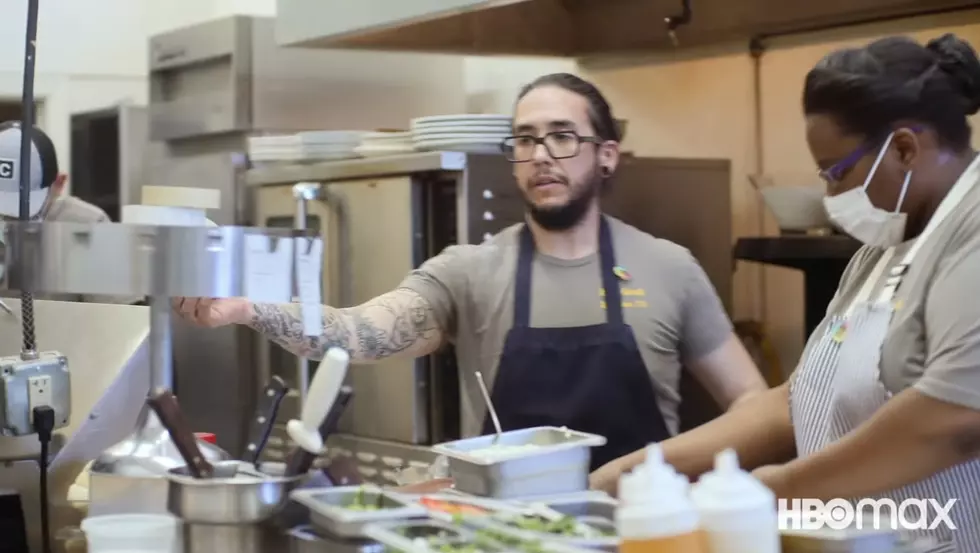 El Paso Chef Competing to Win $300K On New HBO Max Show, The Big Brunch
Courtesy: HBO Max via YouTube
El Paso is on the map again and it's all thanks to local chef and co-owner of One Grub Community Diner, Roman Wilcox.
"It's just amazing," said Chef Roman. "I'm really humbled and honored. I still can't believe it and I'm still processing it."
Chef Roman is the co-owner of El Paso's first 100-percent plant-based diner, One Grub Community which is located in central El Paso at 901 Arizona Ave.
"What we do at One Grub Community is we are a pay it forward community diner so what that means is we have an opportunity for our community that comes and eats with us to leave tips and donations all those tips and donations are left in a pool for those that come in and can not afford a meal," said Chef Wilcox. "We have an opportunity where someone can have a meal, not for free, but on the community."
Chef Roman along with his wife also created a non-profit organization that partners with their community diner, Planty for the People.
Planty for the People is a nonprofit initiative that seeks to bridge gaps in healthy food access in the food deserts of our city. 
The main goal behind the non-profit organization is to teach people the importance of farming and growing their food.
"From seed to harvest we work with volunteers and we help them get educated on farming and growing food and just help them learn to get back to nature," said Chef Roman.  
Chef Roman's involvement with the community is a huge reason as to how he landed a spot on the new HBO Max cooking competition series, The Big Brunch.
The idea to sign up for the cooking competition show was brought to Chef Roman by a former student of his. 
After ignoring the application email for a few weeks, he finally decided he would step out of his comfort zone and apply to be on the show.
"Once I read it and I found out what they were trying to do and that they were looking for community-based people it really struck a chord with me," said Chef Roman.
Days later, he would get a call back from show producers and after going back and forth with the interview process, he would secure a spot on the new cooking competition show.
The Big Brunch brings together 10 chefs from different states that are focused on giving back to their community through their work.
"It's all storytelling through cooking," said Chef Roman. "Basically all of us are getting to tell our stories and our projects because like myself the other chefs are very community minded and they're just beautiful stories and beautiful people."
These chefs will compete for the chance of winning $300,000, Something that will help Chef Wilcox and his wife tremendously because the day he received the call that he was cast for the show was the same day he was told that the building in which the diner works out of is going to be put up for sale.
The Big Brunch premiered the first three episodes on HBO Max this past Thursday, November 10th and you better believe I binge-watched them all!
I won't give away any spoilers but I will say that Chef Roman does a BEAUTIFUL job at showcasing the culture of El Paso through his vegan food creations.
The way he tells the story of our culture and his struggles is just beautiful and empowering and it makes me proud to be an El Pasoan.
Fair warning though, DO NOT watch this show on an empty stomach because all the amazing dishes will get you hungry! Oh! And make sure to have a tissue close by because tears will be shed in every single episode!
If you would like more information on how you can support One Brunch Community Diner or their sister non-profit, Planty for the People, Click Here.
Good luck to Chef Roman! El Paso is proud of you and we are all rooting for you!
One Grub Community Diner