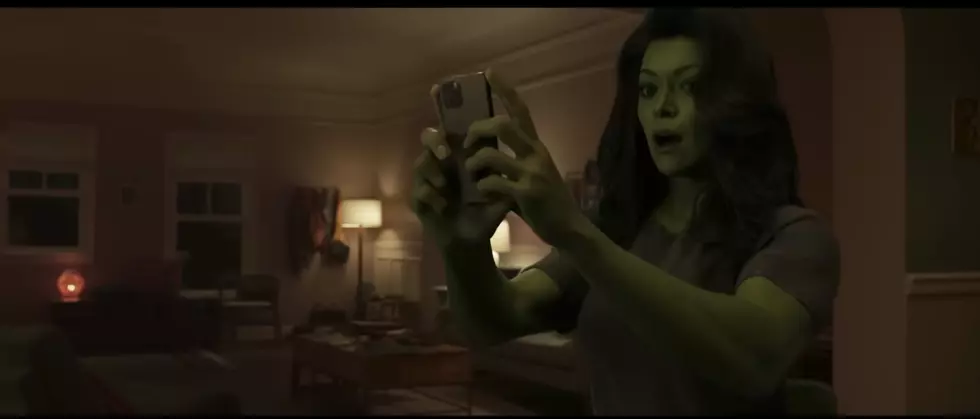 Disney's She-Hulk Looks Like It Will Be Lots Of Fun  
Marvel Entertainment via YouTube
Disney + released the trailer for their upcoming She-Hulk series…and it looks like it will be a hit.
She-Hulk: Attorney at Law is scheduled to debut on August 17th.  The trailer is chock-full of familiar faces and teases some new additions to the Marvel Cinematic Universe.
First is a quick biography of the comic book She-Hulk. Jennifer Walters is the cousin of Dr. Bruce Banner, a.k.a The Hulk. Banner has to perform an emergency blood transfusion in the comics, which gives Jennifer Hulk-like powers. Unlike Hulk, She-Hulk retains her average human intelligence from the jump.
Enter your number to get our free mobile app
In the trailer, we see a giant, mega-secure detention facility. At first, I thought maybe this was "The Raft" (the facility where they put Falcon and Hawkeye during Captain America: Civil War). I don't think it is because The Raft is somewhere in the ocean, and this facility looks like it's firmly on land. A character explains a need for a "legal division" for Super-powered individuals.
In a high-tech cell, we see…actor Tim Roth. This means The Abomination from the Edward Norton version of the Hulk. Remember, that movie IS an official MCU movie. Later we see the fully transformed Abomination on the loose.
The Hulk himself is a big part of the trailer, guiding and encouraging Jennifer to embrace her inner Hulk. Whether Mark Ruffalo's Hulk stays a central character throughout the series is unknown, but he's all over the trailer.
A couple of short clips show a guy with a crowbar. Could this mean the Wrecking Crew, Marvel's construction-themed team of bad guys, makes an appearance? Could be.  I thought I had this figured out when the trailer showed a brief scene of a guy in a green superhero outfit that looked like The Wrecker. But, checking sources, everybody else thinks this will be Frogman Marvel's biggest loser-villain.
In the trailer, there's a clip where She-Hulk is facing off with another super-powered female. If I had to guess, I would say it's Thundra.
I turned out to be wrong about that. The Wikipedia page on the series identifies her as Titania, and she's played by Jameela Jamil from "The Good Place."
I have to be honest: I'm a little burned out on multiple universes, magical incantations, and parallel dimensions. Some good, old-fashioned Hulk-style smashing will be a nice change.
UP NEXT: See how much gasoline cost the year you started driving