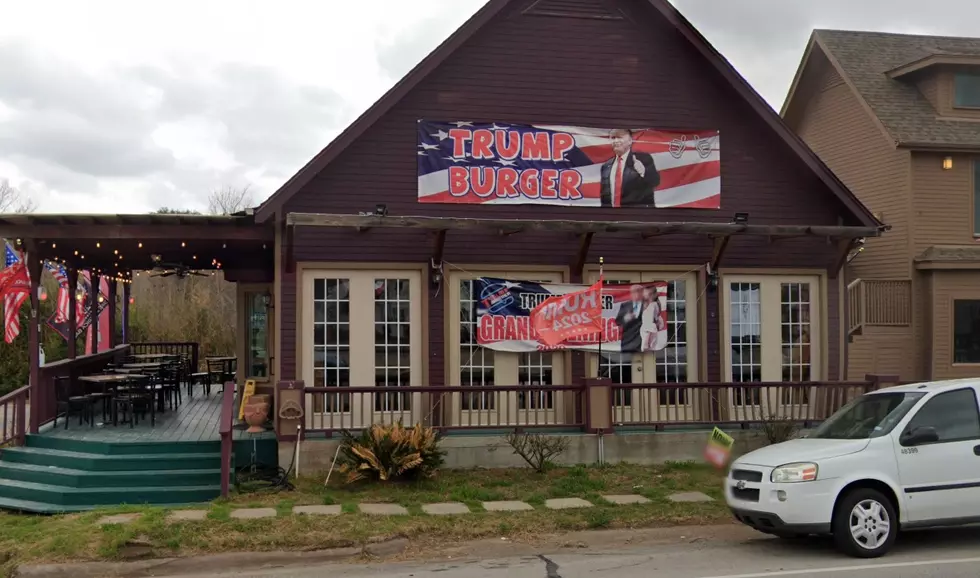 Could This Trump-Themed Burger Joint Be a 'MAGA' Hit in Lubbock?
Google Maps
Make Burgers Great Again?
A restaurant in Bellville (near Houston) has become a destination for burger fans and supporters of former President Donald Trump as the nation's first "Trump Burger."
The Trump-themed burger restaurant was opened back in 2020 prior to the last presidential election. It features such menu items as the "Trump Tower," a 16-ounce cheeseburger that includes the restaurants signature "Trump Sauce." There's also a Joe Biden-themed burger on the menu, which is 1 paltry ounce of beef for a whopping $50. Mmmmm -- inflationary.
Trump Burger is owned by Roland Beainy, a second-generation Lebanese-American who told the Houston Chronicle that he has an appreciation for the former president's policies regarding small business:
"Being an immigrant from a place where everything is bad and you work for almost $200, you see somebody like him to support the country and get the economy doing better. Me being an entrepreneur, I appreciate what he did"
Every burger at Trump Burger is emblazoned with the word "TRUMP" on the bun. The restaurant has been a runaway hit in the small Austin County town, with many customers traveling from miles to partake.
A local resident also told the Chronicle that the parking lot is always full with motorcycles and sports cars from out of the area, most with Trump flags in tow. This begs the question: with so much tourist traffic, would a Trump Burger location also make sense right here in Lubbock?
Lubbock County went for Trump by over 30 points in the 2020 election, and this part of West Texas is considered to be one of the most conservative in the nation. Plus, any infusion of tax dollars in our coffers is a good thing.
Obviously, there are those who would think this is a horrible idea and would look down on anyone carrying a Trump Burger cup and probably call them racist. I get it. Would the idea work in Austin or Dallas? I don't think so. But this is another example of letting the marketplace decide for itself rather than trying to cancel anyone who disagrees with you.
There are lots of businesses that I disagree with, so I don't go there; it's just that simple. So far, Trump Burger has shown to be a big success in that area, and if it works here, so be it. You don't have to eat there if you don't want to, after all. Live and let live, people.
The 11 Best Hole in the Wall Restaurants on 19th Street in Lubbock
Don't sleep on these great hidden gems.
136 Photos of Lubbock's 4th on Broadway Parade
The people of Lubbock had a good time!
The 13 Best Hole in the Wall Restaurants on 50th Street in Lubbock
These buildings might be unassuming from the outside, but the kitchens absolutely know what's going on. I wasn't as strict on this one as I was on my
34th Street version
which you can read if you keep scrolling, but I defend my choices below. If you can get a cash loan in the same strip mall as your pizza, it might be a Hole in the Wall.
The 10 Best 'Hole in the Wall' Restaurants on 34th Street in Lubbock
34th Street is known locally as "where the work gets done," but it's also where the eats go down. (Side note: I also might be the only one that says that because nobody else I know remembers that.) Back to the point, these buildings might be unassuming from the outside, but the kitchens absolutely know what's going on.