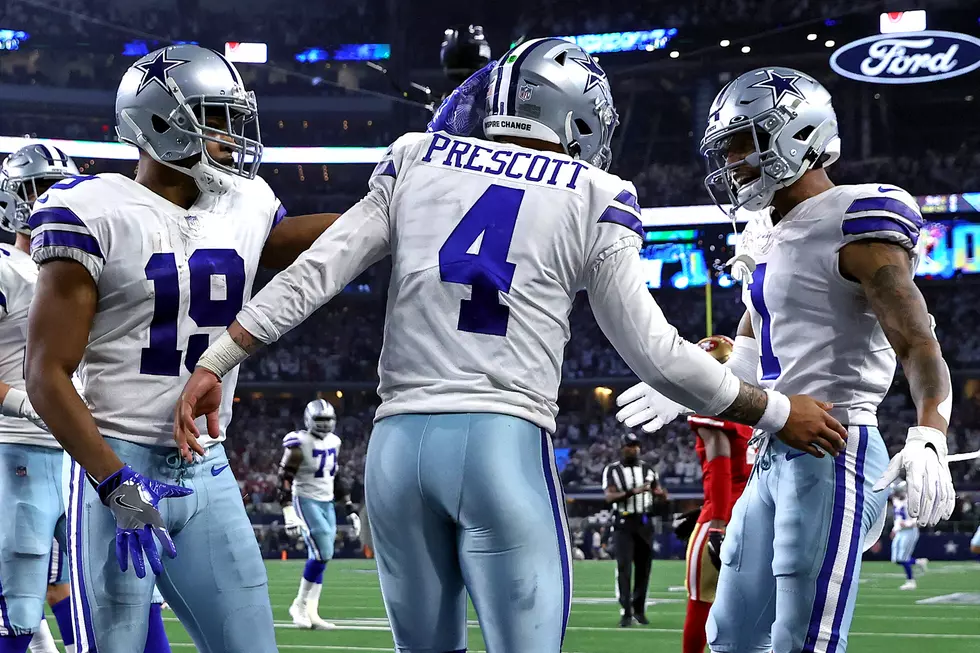 This Could be Your Year to Win a Dallas Cowboys Flyway Trip
Getty Images
How 'Bout Dem Boyz?
Your chance to register to win a trip to a Dallas Cowboys game is back again. We make it really easy for you to enter, so no excuses as to why you couldn't or shouldn't sign up.
We want the die-hard Dallas Cowboy fans to sign up for these trips because this type of trip is a true fan experience. Any football fan would love a free trip to watch football, right? So even those who may love another team, you can still get in on the fun.
KLAQ along with Miller Lite and 915 Tours is giving you a chance to fly out to a Dallas Cowboys game at AT&T stadium. Not only do you get tickets to the game, but you will win a hotel stay, access to the tailgate party, and enjoy a Dallas Cowboys Meet and Greet
Make plans to visit the registration sites below for your chance to win the designated trip for that week.
7365 Remcon Cir. Suite B206
1415, 931 N. Resler Dr #102
12370 Edgemere Blvd #2626
Comfort Zone Heating and Cooling
Cielo Vista 8401 Gateway Blvd W, El Paso, TX 79925
Bassett Center 6101 Gateway Blvd W, El Paso, TX 79925
Sunland Park Mall 750 Sunland Park Dr, El Paso, TX 79912
3922 Delta
Taco Avocat
2114 N. Zaragoza Rd B6 El Paso, Texas 79938
Total Auto Repair
5559 El Paso Drive
La Havana Bar and Grill
7250 Doniphan Dr., Canutillo, Texas 79835
Sun City Auto Registration & Titling LLC
4443 Edgar Park Ave
El Paso, TX 79904
When You Need to Register
Gobble Your Way to Winning a Trip to See the Dallas Cowboys on Thanksgiving
If you want to spend your Thanksgiving with the Dallas Cowboys, then you need to register below. You ONLY do so on the KLAQ app.
The contest ends on November 4th at 12:00 pm. One (1) winner will be chosen randomly from all acceptable entries.
OFFICIAL CONTEST RULES
This contest adheres to our general contest rules with these additions:
You must be age 21 or older to win and be a legal Texas resident.
Drawings held on August 25th, 2022, September 1st, 2022, September 15th, 2022, October 6th, 2022, October 13th, 2022, November 17th, 2021, November 23rd, 2022 and December 1st, 2022 will come randomly from all cumulative entries submitted on-location at the businesses mentioned in this post.
List of on-location business for entries may change during the course of the promotion.
If we cannot reach the first qualified winner of a given drawing within 24 hours, we will draw a second winner. The second winner will be contacted immediately. If the second winner cannot be reached within two (2) hours of the second drawing the second winner will be deemed ineligible and the process will continue likewise until a winner can be reached.