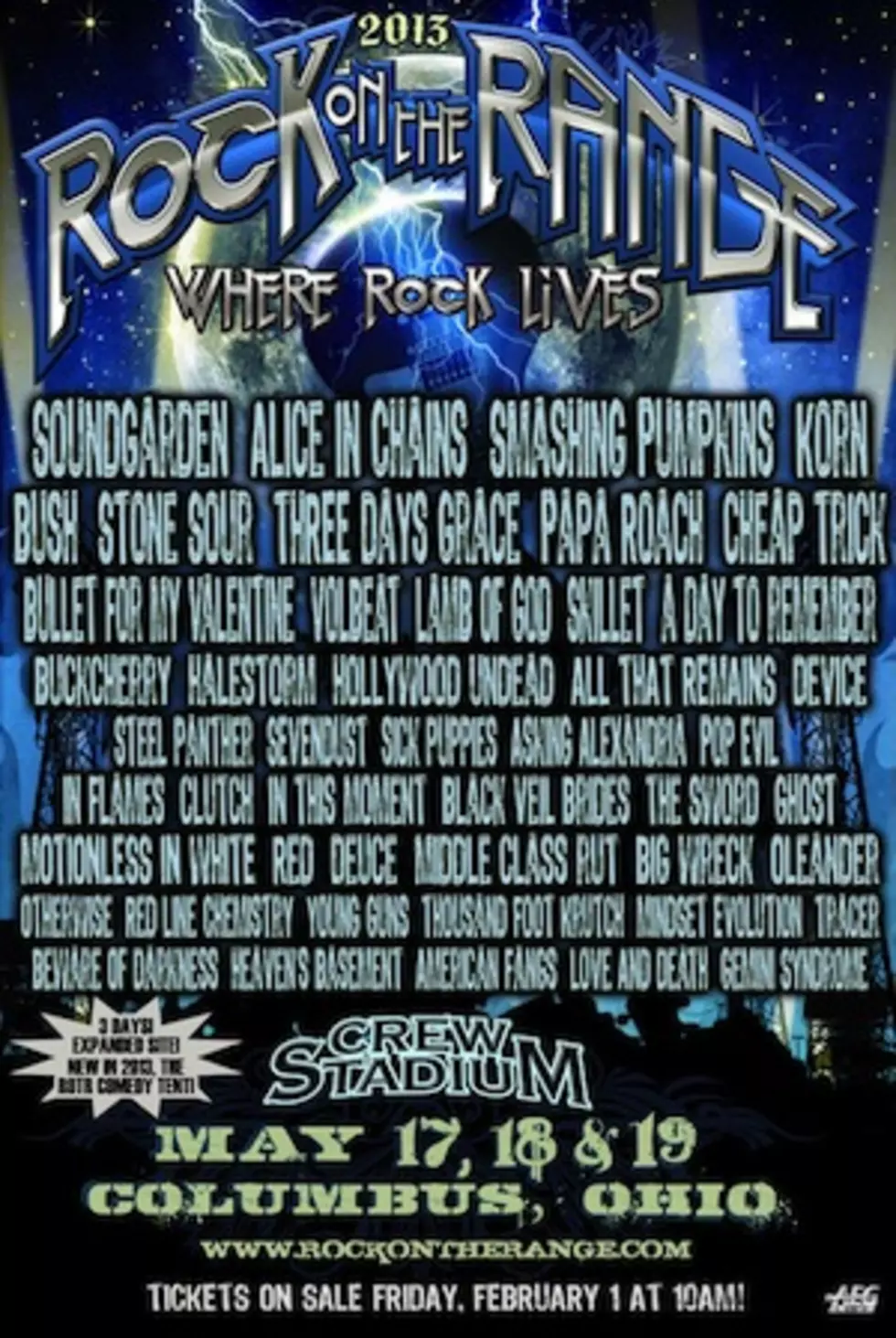 2013 Rock on the Range to Feature Soundgarden, Alice in Chains, Korn, Lamb of God + More
2013 Rock on the Range Festival
The 2013 installment of the Rock on the Range festival will take place May 17-19 in Columbus, Ohio, at the Columbus Crew Stadium.
Korn will be welcoming former guitarist Brian 'Head' Welch to join them onstage. The band has already booked some dates with Head in Europe, but this is their first U.S. show of the year so far that will feature the axeman. "Head is back!!," says Korn's Jonathan Davis. "Rock on the Range is going to start it all off!!  Get ready, we are going to hit it hard!!"
Another band to pay close attention to for Rock on the Range is Lamb of God. Although LoG are confirmed for the festival, vocalist Randy Blythe is scheduled to appear in Czech court on Feb. 4 for his controversial manslaughter case. Depending on the outcome, there is a question of whether Lamb of God will indeed be able to remain on the bill.
Jerry Cantrell of Alice in Chains is excited about the band's slot in this year's Rock on the Range, saying, "We're really looking forward to returning to Rock on the Range with a batch of brand new killer Alice tunes to play for everyone!" Additionally, Bush singer Gavin Rossdale offers, "Bush are thrilled to be playing Rock on the Range with such great bands. We look forward to seeing you all out there."
Check out the full festival lineup below, and find out all the ticket pre-sale and onsale information at the official Rock on the Range website.
Rock on the Range 2013 Lineup:
Soundgarden
Alice In Chains
Smashing Pumpkins
Korn
Bush
Stone Sour
Three Days Grace
Papa Roach
Cheap Trick
Bullet For My Valentine
Volbeat
Lamb Of God
Skillet
A Day To Remember
Buckcherry
Halestorm
Hollywood Undead
All That Remains
Device (with David Draiman)
Steel Panther
Sevendust
Sick Puppies
Asking Alexandria
Pop Evil
In Flames
Clutch
In This Moment
Black Veil Brides
The Sword
Ghost
Motionless In White
Red
Deuce
Middle Class Rut
Big Wreck
Oleander
Otherwise
Red Line Chemistry
Young Guns
Thousand Foot Krutch
Mindset Evolution
Tracer
Beware of Darkness
Heaven's Basement
American Fangs
Love And Death
Gemini Syndrome