Jared Leto Looks Good Either Way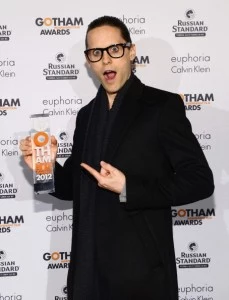 Talk about drastic changes.
The 30 Seconds to Mars star, Jared Leto has changed his look once more for a movie role. One of the memorable ones I remember was when he gained 60 pounds to play John Lennon's killer Mark David Chapman for the movie "Chapter 27″. Unfortunately for all the force-feeding he did, he got gout in one of his feet by the end of the film.
"I couldn't walk for long distances. I had a wheelchair because it was so painful. My body was in shock from the amount of weight I gained," Jared stated back in 2008.
Monday night at the Gotham Awards in New York, Jared Leto removed his glasses to unveil a huge change in his 'look', he waxed off his eyebrows. (Ouch!) But not to worry, its for a movie role (nothing technically permanent). The flick is "The Dallas Buyers Club", where he plays an HIV-positive transvestite. You've probably seen photos of actor Matthew McConaughey, who's also changed his appearance and dropped down to 143 pounds to play another HIV-positive character in the same movie.
Leto has been documenting his transformation process for his Twitter followers; and from what I saw they are just … OUCH! … yeah. He's given fans pretty much a detailed look at what he's done for the part before shooting started. Some pictures show his right armpit completely red after it was waxed, another getting his eyebrows plucked (I guess that seemed worse to him so he waxed them off), another just totally wrong, shows clumps of wax with his eyebrows still intact (Orale!!)
Along with photo he posted, "Ladies, I feel your pain. What I have learned today: Beauty is pain. Wax on wax off."
Sometimes when we're out at a bar in town or something, I see what some of the women … and men do to themselves (makeup, piercings, tattoos … clothing) and just wonder, "Why?". Then I see actors and their drastic changes for roles and ask myself, 'Is it really that worth it?'