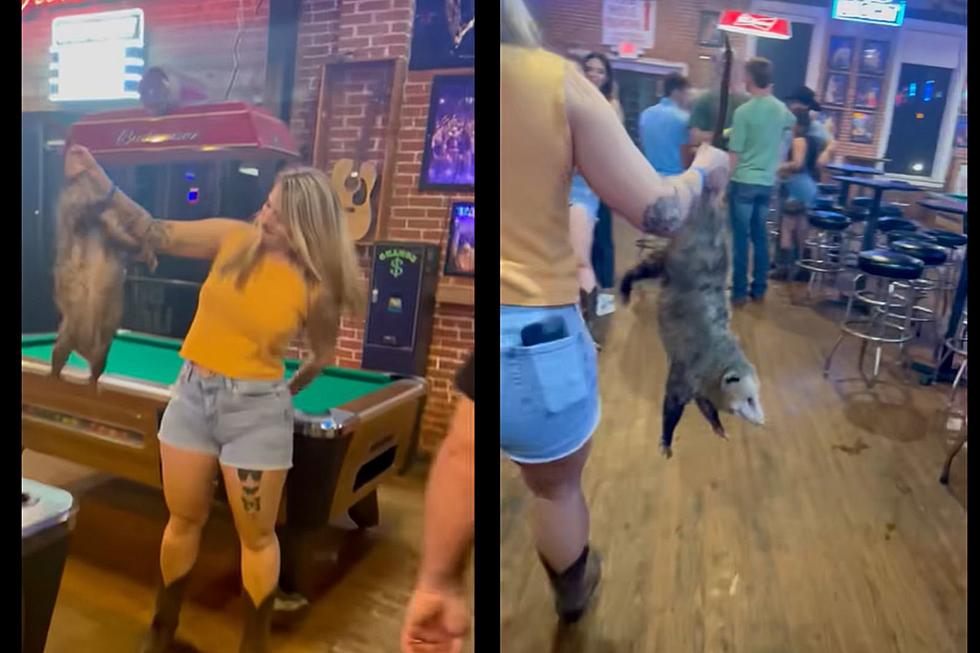 Watch a Hottie Wrangle A Possum Straight Out Of a Texas Country Bar
Banita Creek Hall via Facebook
One possum didn't want the party to end one evening in Nacogdoches, so one beautiful cowgirl decided to take matters into her own hands, literally!
The Banita Creek Hall in Nacogdoches had an unexpected guest one evening as the night was coming to an end. It was a possum!
That's right, the nocturnal marsupial decided since the night was just getting started for them, that they would stop on in to the Banita Creek Hall for a sarsaparilla.
Enter your number to get our free mobile app
Unfortunately for him, he was not welcome! And while others didn't know what to do in the situation, one pretty cowgirl decided this was a job for her! Check out how she decided to handle the situation! Careful, this language in this is NSWF!
Check out how she just walks around as if she isn't even holding this critter in her hand, although she does mention that he's pretty heavy.
I can't stop laughing at how the possum is flailing around, with its little feet dangling while she nonchalantly just carries him out of the place!
Banita Creek Hall was super thankful for the Possum Queen that they've promised her next round is on them, rightfully so!
The video itself has gained so many views and comments, mainly from people who are impressed at how the Possum Queen shows no fear! I, for one, am super impressed! I wouldn't be able to just grab the possum by the tail like that!
Despite how cute a possum is, they can be pretty scary when they hiss! Good job, Possum Queen, you will never be forgotten!
Beautiful Cowgirl Rescues Possum at Texas Dance Hall
It was closing time at Banita Creek Hall in Nacogdoches when an uninvited guest made an appearance. Thankfully, a southern belle came to the rescue.
40 Of The Best Musicians Born In Texas
Texas has been home to a wide variety of musical genres; many musicians have become staples of rock, metal, pop, country & more. Here are some of the greatest musicians to ever represent the state of Texas.