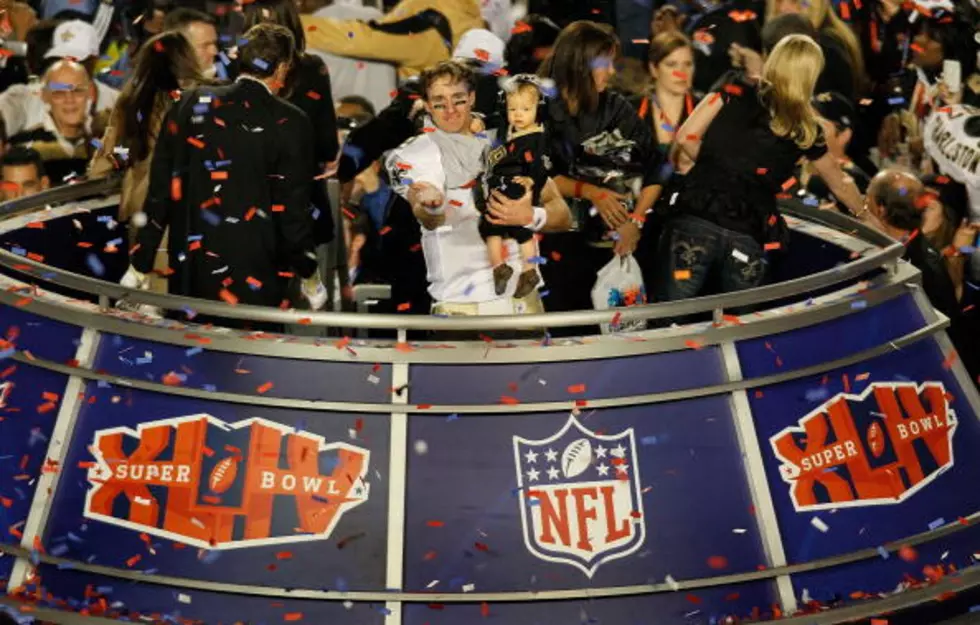 Super Trip To The Super Game!
 It's the biggest event of the year..the SuperBowl! KLAQ wants to send you to check out the big game in Dallas on February 6th! You'll get:  
Round trip airfare for 2 from El Paso to Dallas, TX
2 tickets to the SuperBowl
2 nights hotel accommodations
$600 in spending money
plus more great prizes  
And the ONLY way to get registered is to visit Super Trip To The Super Game appearances around town!  
January 8th be at Viva Dodge from Noon-2pm
January 14th be at Western Beverages from 4-6pm
January 15th be at Aamco Transmission from 11a-1pm
January 19th be at the Three Legged Monkey from 4-6pm
January 22nd be at the El Paso Spring Home Show from 1-3pm
January 27th at Circle K, 1400 Lee Trevino & James Watt from 4-6pm
January 29th be at Cal TV, 1700 N. Zaragosa from 3-5pm
January 29th be at Brew, 8041 N. Mesa from 7-9pm
January 30th be at J.R. Produce, 5111 Fairbanks from Noon-2pm
January 30th be at Auto Value, 1718 N. Zaragosa from 3-5pm 
Keep checking back for your next 2-hour window to get signed up to win the trip to SuperBowl XLV in Dallas!  
---------------------------------------------------------------------------------------------------------------------------------  
Super Trip To The Super Game Official Rules  
1. No purchase necessary.  
2. Must be 21 years old and a US citizen to win.  
3. Registration is limited to the official sign up dates, times, and locations as released by KLAQ 95.5 FM, KSII 93.1 FM, and KROD 600 AM. All times, dates, and locations will be announced on the radio, plus the station's web sites: klaq.com; krod.com; kisselpaso.com.  
4. Official sign-up times and dates will last through Monday, January 31, 2011.5. At 9:00 a.m., on Tuesday, February 1, 2011 station officials will draw one name from everyone who registered at all of our official Super Game remotes, and if qualified, that person will win:
--Two (2) tickets to the NFL Championship Game for Sunday, February 6, 2011 at Cowboys Stadium in Dallas, Texas.
--Roundtrip air transportation from El Paso, Texas to Dallas, Texas for two (2) people.
Two (2) nights hotel accommodations.
--$600 spending cash  
--If the person fails to meet the qualifying criteria, another person's name will be drawn until an official winner is chosen.  
6. Upon accepting the prize, the official Super Game winner must provide the names of both people going on the trip; the air transportation tickets will be purchased and cannot be changed.  
--Due to circumstances and timing, the winner agrees to provide all required information to book the trip by 4:00 p.m. on Tuesday, February 1, 2011. If not, the station cannot be liable for securing the proper air transportation for travel to and from the game.
--The trip may be transferred from the winner to another family member if all details are secured by 4:00 p.m. on Tuesday, February 1, 2011.
--Trip is to be booked for Saturday / Sunday night, February 5 – 6, 2011.
--Due to unforeseen travel arrangements, a third night could be added to the itinerary, depending on availability of flights, etc.  
7. Employees and immediate family members of Townsquare Media of El Paso and participating Sponsors, are not eligible to participate in this promotion.  
8. Winners are responsible for all applicable taxes.  
9. Station management reserves the right to make adjustments as needed to achieve fairness in all official rules and registration outlets.  
10. Winners agree to release their name and picture for promotional purposes.  
11. Decisions of KLAQ 95.5 FM, KISS 93.1 FM and KROD 600 AM are final. Good luck!