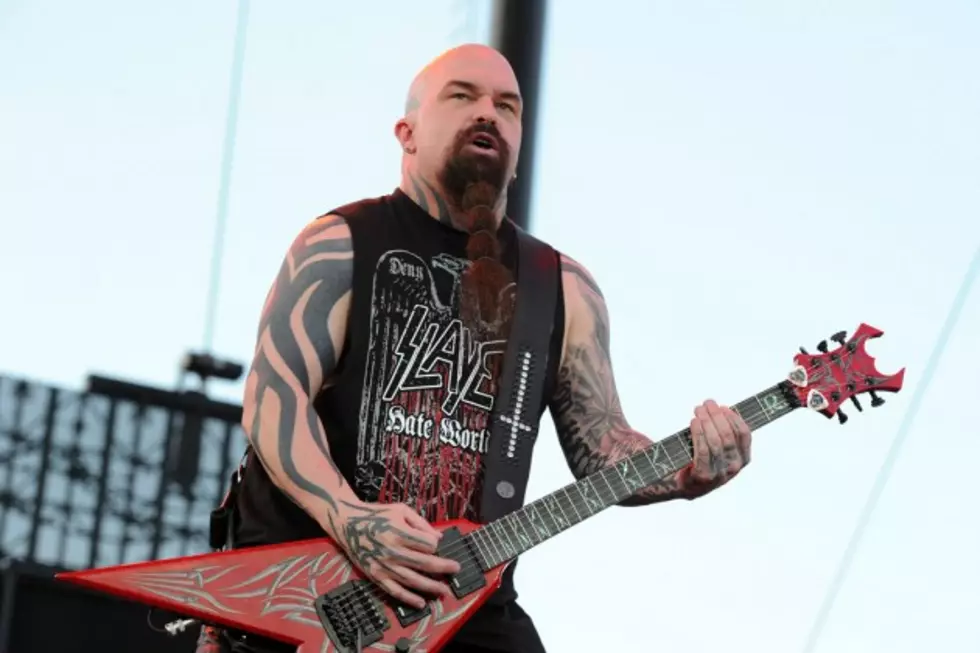 Slayer's Kerry King: 'I'm Not Sure a New Record Makes Sense for Metallica'
Kevin Winter, Getty Images
Kerry was asked if following the death of Jeff Hanneman and departure of drummer Dave Lombardo if he potentially saw Slayer never making another record. "Not me personally," says King. "The way I look at it is that if I wasn't making music up for Slayer, I'd be making music up that sounds just like Slayer with somebody else playing it. It made sense to me to continue doing what I was doing. For me, it was waiting for Tom [Araya] to be happy with the situation, and I think it wore on him more than it wore on me. I looked at it more realistically than personally. I looked at it as business. This is my job and I've got to continue what I'm doing, so there wasn't any other option for me."
King continues on Hanneman, "You can only help a person so much. That's kind of how it went down to us. We offered to help our friend. If he is unwilling to take care of himself, then that's the tragedy of it."
Kerry King was also asked his opinion on Metallica not releasing an album for the last seven years. "Funny thing is, I brought that up last night. We were sitting around having some shots and I said, 'When's Metallica doing a new record?' When you think about it, it's kind of like us. You don't have to put out a new record," says King. "People will come up to a certain point, because you've got such a catalogue. You can just keeping changing songs. They are really living on the first five records, I think. I'm not sure a new record makes sense for them. Death Magnetic was a nice version compared to St. Anger. Hopefully, they keep going along that line and get some of the riffs back."
Slayer's Repentless album debuted at No. 4 on the Billboard 200 chart, but triumphed over all in Germany where it came it at No. 1.
See Slayer + Metallica Members on Our List of the Top 50 Hard Rock + Metal Guitarists
Slayer's Kerry King Plays 'Wikipedia: Fact or Fiction?' (Part 1)