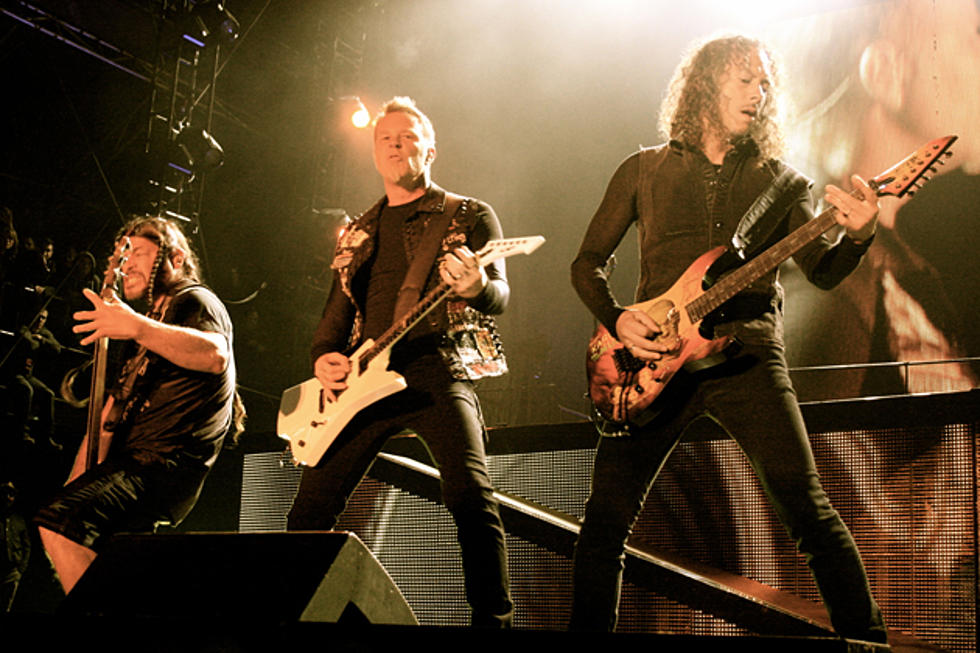 Metallica Crush Voodoo Fest in New Orleans – Exclusive Photos
Chuck Armstrong, Loudwire
In a turn that surprised many fans, it was announced a few weeks ago that Metallica were adding one more show to their 2012 touring itinerary, a schedule that initially ended with the band's performance at Outside Lands in San Francisco. However, the band answered the call to take over Green Day's slot headlining the Voodoo Music + Arts Experience festival, meaning Metallica would give the world one more 2012 show. Last night (Oct. 27), Metallica did just that at City Park in New Orleans.
The band immediately set the stage for the two-hour show by ripping into 'Hit the Lights.' Wasting no time after the opening song, James Hetfield delighted the crowd when he struck the first chord of the iconic opening riff to 'Master of Puppets.' In a set that included songs like 'Blackened,' 'All Nightmare Long' and 'Holier Than Thou,' the highlight of the night was when the band played 'Orion' in its entirety. In an obvious tribute to the late bassist Cliff Burton (who played a significant role in the writing of the track), Robert Trujillo was spot-on with the bass solos while the rest of the band sounded tighter than ever playing the instrumental. When the song was finished, Hetfield solemnly said, "God bless Mr. Clifford Lee Burton."
Originally set to headline the second night of the Voodoo fest, Green Day had to back out as lead singer Billie Joe Armstrong entered rehab for substance abuse. "We're Green Day, just a little taller," Hetfield announced, having some fun with the crowd after the first few songs. Later in the night, as the band took the stage for their encore, Hetfield brought up Green Day again, saying, "They're getting it sorted out, hopefully they get it fixed because the world needs them." Right after that, the band tore into a tribute to Green Day by playing the opening riff of 'American Idiot.' Not long after that, Metallica kicked the encore off in true style with 'Creeping Death.'
The Voodoo fest in New Orleans is a unique experience. Five stages, nearly 100 bands and an endless display of locally created art all inhabit City Park for three days each year. With Neil Young & Crazy Horse headlining Friday night and Jack White rounding things out Sunday night, Metallica were heralded as the main act by nearly all of the local press. The bar was set high with their fellow headliners, but Metallica did what they do best: rose to occasion, put on an absolutely rocking show and did not disappoint their fans. To see Metallica not only play their first Voodoo fest, but also their last show of 2012, was a once-in-a-lifetime experience for concertgoers.
Metallica's Voodoo Music + Arts Experience Set List Oct. 27,  2012
'Hit the Lights'
'Master of Puppets'
'Holier Than Thou'
'Harvester of Sorrow'
'Of Wolf and Man'
Kirk Solo
'Welcome Home (Sanitarium)'
'All Nightmare Long'
'Sad But True'
Rob Solo
'Fade to Black'
'Orion'
'One'
'For Whom the Bell Tolls'
Kirk Solo #2
'Blackened'
Kirk Doodle
'Nothing Else Matters'
'Enter Sandman'
Encore
'American Idiot' cover (only the song open)
'Creeping Death'
'Battery'
'Seek & Destroy'
Watch Metallica Perform 'Master of Puppets' at Voodoo
Watch Metallica Perform 'Sad But True' at Voodoo