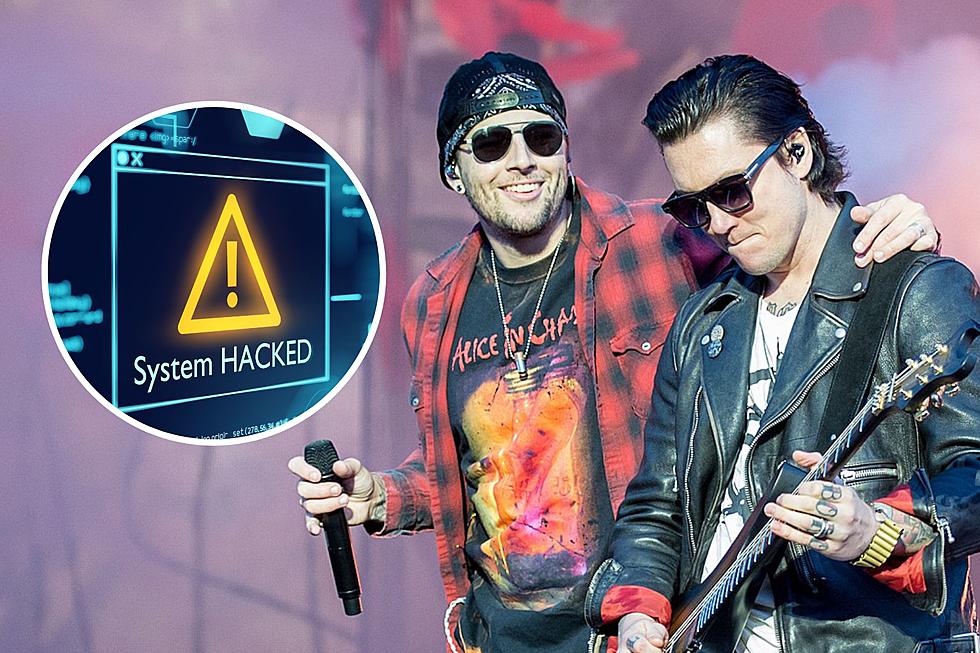 Avenged Sevenfold Appear to Have Been Hacked – AI Deepfake, Phony Festival Cancelations
Ollie Millington, Getty Images / solarseven, iStock/Getty Images
Avenged Sevenfold appear to be victims of an elaborate hack in which AI deepfake technology was used to announce a pair of phony festival cancelations amid alleged delays with the band's forthcoming album.
As we've since learned, nothing stated in that original announcement is true, as confirmed by singer M. Shadows on Twitter.
So, what exactly happened?
As reported and transcribed by Metal Injection, a one-minute clip tiled Important Announcement was uploaded to Avenged Sevenfold's "Trax" podcast across streaming platforms, where fans were duped into thinking Shadows was delivering a vital message. It turns out, this was not actually the A7X frontman, but instead his likeness via deepfake/AI/voice-changing technology.
The transcript, replicated in its entirety below, indicated at the time that due to "unexpected delays on the new album" that the group had elected to cancel their appearances at the Welcome to Rockville and Sonic Temple festivals this May in order to prioritize work on the successor to 2016's The Stage.
The fake announcement goes on to express the band's dedication to the new record and that these decisions did not come easy.
Hey, Trax listeners, we're so sorry to bring bad news to you all, but I wanted you to hear it straight from the horse's mouth. We've had some unexpected delays on the new album and have decided to cancel our appearances at Welcome to Rockville and Sonic Temple to focus on finishing it up. It breaks our heart to do this, but some things have to be done.

I understand this is disappointing news for everyone, and I want to let you know that we are truly sorry for any inconvenience this may have caused. Creating new music is a passion we have dedicated our lives to, and we believe our fans deserve nothing but the best from us. We put our hearts and souls into this new project to make it the best it can be.

We've been working tirelessly on this new music and are committed to bringing it to you as soon as possible. We know that cancelling more shows is a major disappointment, and I want to assure you that this is a decision we did not make lightly. Many of you will be let down and frustrated. And for that we are deeply sorry.

We want to thank you for your understanding and support during this time. Your dedication to our music and your unwavering enthusiasm for our shows inspire us every day. We promise to make it up to you, and we will see you soon. Once again, we apologize for any inconvenience this may have caused, and we thank you for your patience and understanding.
On Twitter, Shadows was taken aback by this news, quote tweeting a since deleted post from Avenged Sevenfold regarding the fest cancelations, exclaiming, "Yikes! This is NOT TRUE. We are still playing. Getting to the bottom of this," followed by another tweet (linking out to the "Trax" announcement in question, stating, "Literally walking in the streets of Mexico and listening to this. What the actual fuck... NOT ME!"
Whether this hack was indeed genuine or this is another elaborate hype campaign from Avenged Sevenfold remains to be seen. The band does have a history of toying with fans leading up to big album news, first teasing Voltaic Oceans as the title of their last album before a surprise release where A7X announced The Stage was out now immediately after a 3D, 360-degree virtual livestream atop the Capitol Records building.
Stay tuned!
We Asked an AI Chatbot Why 20 Classic Albums Are So Great - Here's What It Said
Here's what an AI Chatbot had to say about classic rock and metal albums.