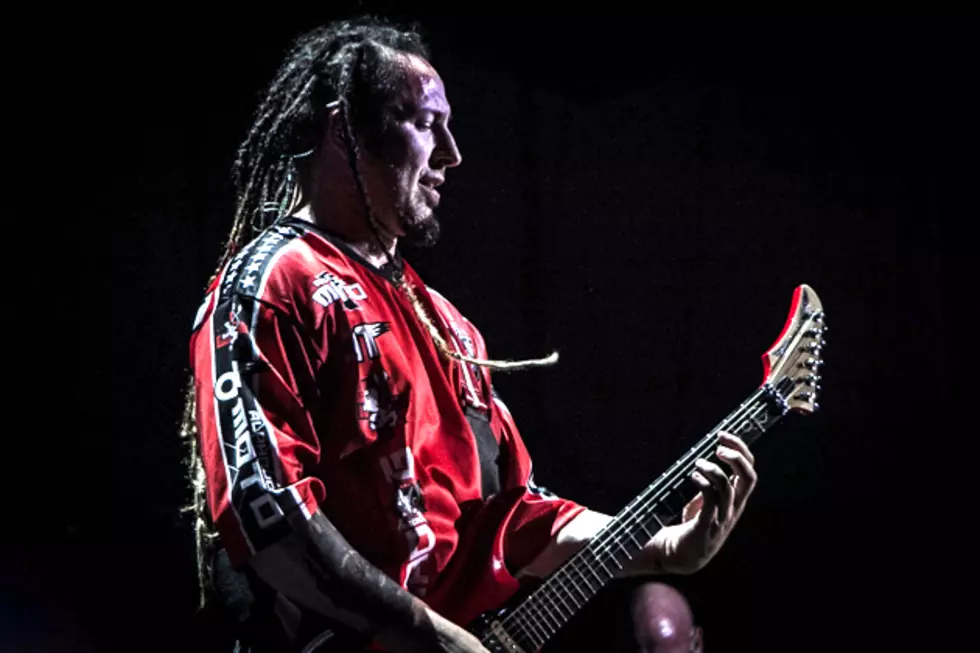 Five Finger Death Punch Plan To Release New Album in 2015
Kathy Flynn, WickedGoddessPhotography.com
In an interview with Billboard, guitarist Zoltan Bathory says the band already has five or six song ideas in the can. "I would say next spring we would want to put something out," Bathory reveals, "so that means this year we'll be recording here and there and probably go into the studio in December or January. But we definitely want to have something out before next summer for sure."
Bathory continues, "In this environment I don't think that bands can allow themselves to stay in a studio for two, three, four years and wait and try to write some masterpiece. In four years people are going to forget about you. You have go put out records. Thank God we have plenty to say and plenty of material. We don't struggle for material -- obviously."
Many bands don't like to write new material while on the road, but that's not an issue with Five Finger Death Punch. They bring along portable studio gear and work on new songs while they are on tour.
Bathory says, "That worked out for us really, really well -- we got two albums out of it, right? It was great, because it wasn't like the usual, 'Here you go, guys. You have four months, or five, to write a record.' Instead of that we started writing songs and lived with them for possibly a year. And when you get to live with a song it always evolves and evolves and gets better, so I think we'll always do it this way from now on. It's a healthy process."
5FDP are currently on the road playing festivals and headlining shows. They also just announced a massive co-headlining tour with Volbeat that also features Hellyeah and Nothing More and kicks off in September. Loudwire is giving you the chance to win tickets and an autographed guitar. For all the details and to enter, go here.