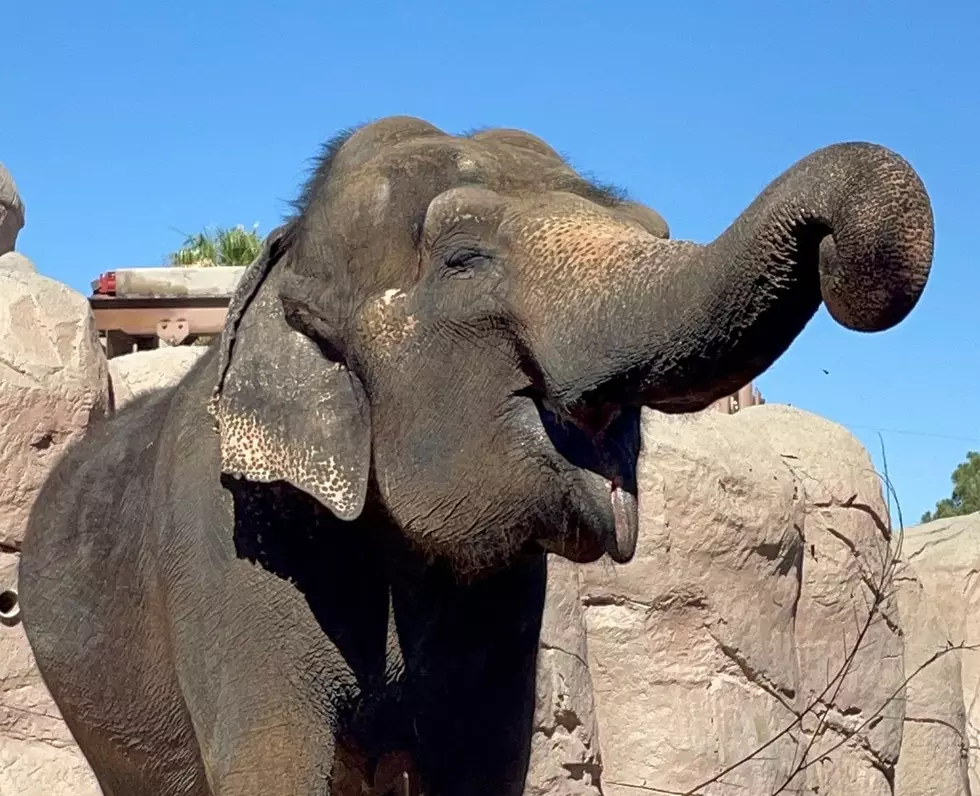 El Paso Zoo Throwing Savannah the Elephant a Jumbo Sized Birthday Bash
El Paso Zoo Facebook
Who is ready to party with a pachyderm?
The El Paso Zoo is having a bash this month that is 70 years in the making. Savannah, the El Paso Zoo's largest resident and one of the oldest elephants on the planet, is turning the big 7-0. They grow up so fast.
Enter your number to get our free mobile app
Savannah was born in the wild and came to El Paso from the Baton Rouge Zoo in 1997 when she was 45 years old. The soon-to-be septuagenarian is now the third oldest elephant known to man and still quite spry with only "a little arthritis in one leg," according to Joe Montisano, Director of the El Paso Zoo.
By all accounts, she's 7,600-plus pounds of pure sweetness. "She's a people elephant," Montisano said of Savannah in an interview with El Paso Inc. "She loves interacting with the guests and her trainers."
That's very apparent when she makes her annual Super Bowl game prediction. Savannah is, in fact, the reigning Zooper Bowl champion.
Per my own meticulously kept records, the prognosticating pachyderm has correctly predicted the Super Bowl winner eight times in the last twelve years. If only I could take her with me to a Vegas sports book.
Savannah's BDay Bash
Savannah's BIG 70th Birthday Bash is set for Saturday, September 17.
Come sing Happy Birthday to the oldest Asian Elephant in North America [and] party in true Zoo style with activities for the family, giveaways, a bubble bath for the birthday girl and so much more!
That sounds like it's going to be a TON of fun. (Hi-Yo! See what I did there?)
Savannah's BIG 70th Birthday Bash will take place from 10 a.m. to 2 p.m. Let's make sure she has an elephan-tastic time.
Black Bear Diner Is Opening A New Location In El Paso
A look at Black Dear Diner, its merchandise, and menu options.
RANKED: Here Are the 63 Smartest Dog Breeds
Does your loyal pup's breed make the list? Read on to see if you'll be bragging to the neighbors about your dog's intellectual prowess the next time you take your fur baby out for a walk. Don't worry: Even if your dog's breed doesn't land on the list, that doesn't mean he's not a good boy--some traits simply can't be measured.