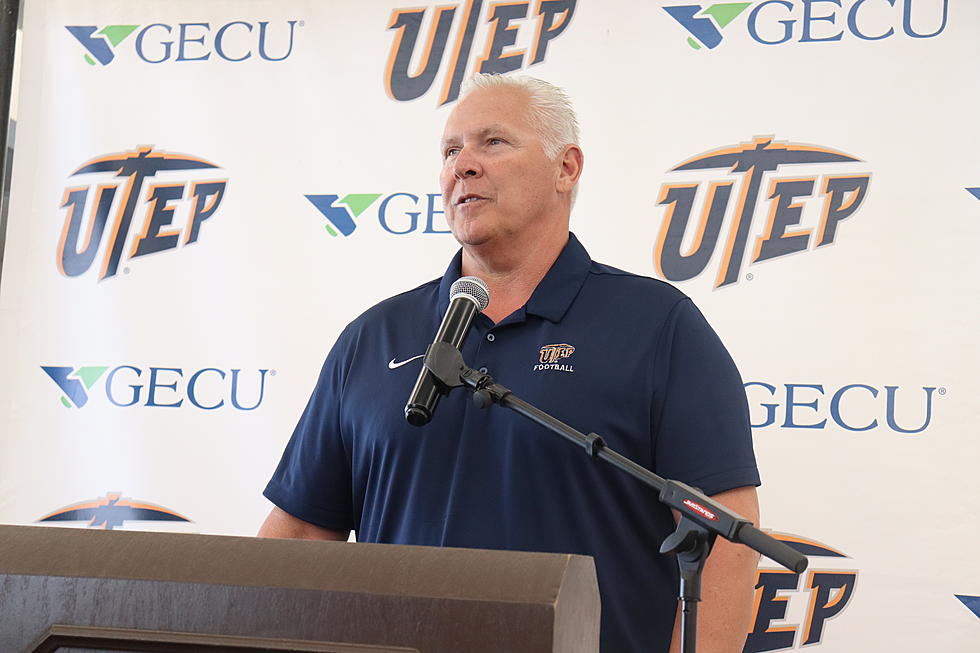 Battle of I-10 Preview: Will UTEP Snap NMSU's 3 Game Win Streak?
Adrian Broaddus
The 98th Battle of I-10 for the Silver Spade and Brass Spittoon between UTEP and New Mexico State will kick off the 2021 football season on Saturday, Aug. 28 at Aggie Memorial Stadium.
KLAQ (95.5 FM) will carry the coverage of Saturday's game, while another season of MinerTalk will follow the broadcast on 600 ESPN El Paso, which will take phone calls and post-game reactions after the Battle of I-10.
Because of the pandemic, the two teams did not play in 2020. Kickoff is set for 7:30 p.m. at Aggie Memorial, and the game will also be televised locally on KVIA (ABC-7).
UTEP is focused on redemption 
After winning eight straight against the Aggies from 2009-16, the Miners are currently on a three-game losing streak against their rivals. In fact, head coach Dana Dimel hasn't beat Doug Martin and NMSU during his first two tries at UTEP. The Aggie squad that raced away with a 44-35 win in 2019's Battle of I-10 looked far different than this year's team. They have a lot of new faces and players without experience.
Could the Miners snap their three-game losing streak against the Aggies? I think the better question is, what happens if they don't? A week one loss to NMSU isn't necessarily a call for panic, but a loss would raise a lot of red flags for this year's team. The pressure is definitely on the Miners for this matchup.
A look back to 2020: UTEP finishes 3-5 with more optimism 
The pandemic-riddled 2020 season was full of cancelations, reschedulings and even internal positive COVID-19 cases across all of college football. The Miners were hit a lot of different ways because of the virus. Due to El Paso's high infection rate last October, teams in C-USA refused to play at the Sun Bowl. Thus, the Miners didn't host a single conference home game last year and managed to pull off a 3-5 record.
In the midst of the madness, there were several key players that stepped up in significant ways to give the Miners optimism heading into Dimel's fourth season at the helm.
They found a starting quarterback in Gavin Hardison (1,419 passing yards), along with a standout freshman running back in Deion Hankins (592 rushing yards, nine touchdowns), and two dynamic receivers in Jacob Cowing (1,241 receiving yards) and Justin Garrett (510 receiving yards, three touchdowns). Pass rusher Praise Amaewhule (7.0 sacks) and defensive tackle Keenan Stewart (34 tackles) anchored the defensive line and stood out for the Miners defensively.
UTEP offense could present a balanced attack against NMSU 
As Dimel pointed out this summer, the biggest reason behind bringing new offensive coordinator Dave Warner into this season was to help Hardison take the next steps forward in his college career. The coaching staff will rely on Hardison to change plays at the line of scrimmage and read defenses better than before. A step up in Hardison's development bodes well for the Miners as they try to increase their scoring totals offensively and establish a truly balanced attack.
Most know UTEP to be a team full of running backs—Hankins, Quardraiz Wadley, Ronald Awatt and Willie Eldridge. The Miner offensive line also carries a lot of experience. The receivers beyond Garrett and Cowing are talented and have potential. In all, the offense features 11 starters returning.
If Hardison can help to orchestrate a balanced game for the offense, the Miners could put up a lot of points against an Aggie defense that struggled mightily in 2019. But if they fall into inconsistencies, commit turnovers or get called for unnecessary penalities, the Miners could let this game slip away from them.
Miner defense is key to slowing down Aggies 
Speaking of new coordinators, the Miners brought in Bradley Dale Peveto to run the defense and to replace former defensive coordinator Mike Cox. The thing we've heard all offseason for the defense is about the four-man defensive front. Bringing back experienced standouts like Amaewhule and Stewart, while bringing back defensive tackle Kelton Moss and end Jadrian Taylor makes for a sturdy defensive line.
While the linebackers might take a bit of a step back, the secondary improved vastly over the offseason. They will need to find someone to replace former linebacker Stephen Forester. Tyrice Knight and Breon Hayward will be the first two that slide into the linebacker spots for the team. In the secondary, they added Kansas State cornerback transfer Walter Neil Jr. On the opposite side of him, Dennis Barnes will alternate with Josh Caldwell at the corner spot. Justin Prince and Dy'vonne Inyang will fill up their safety group. The UTEP defense returns nine of their 11 previous starters from last year.
Over the past five years, the Aggies have averaged 36 points against the Miners in the Battle of I-10. The UTEP defense will be key in trying to prevent NMSU from racking up touchdowns in this historically high-scoring rivalry game.
Aggies 2021 overview 
It's difficult to assess the Aggies in 2021 compared to years past for the sole reason that the team hasn't played a real game since late November of 2019. This Saturday will mark the first home game that NMSU has played since they beat UTEP 44-35 in 2019. The Aggies played a pair of FCS opponents this past spring (L, 43-17 Tarleton; W, 36-29 Dixie State), but those games didn't help give a full picture of what to expect from this year's group. Martin is in the final year of his contract and he will need to earn that next extension this year.
Most anticipate JUCO transfer quarterback Jonah Johnson to get the nod at the starting quarterback position, but don't be surprised if NMSU throws a second quarterback in redshirt freshman Weston Eget.
The run game could end up being the strongest component for them on Saturday. They have some nice pieces in their offensive line, such as Sage Doxtater and former Ole Miss center Eli Johnson. That could open up opportunities for running backs like O'Maury Samuels and Juwauan Price.
NMSU will also have to get past their defensive lapses in this game if they expect to win. They gave up an average of 492 yards against the pair of FCS opponents they faced this spring.
The betting line
Spread: UTEP (-9.0)
Money Line: UTEP (-350), NMSU (+280)
Over/Under: 54.5 points
Prediction UTEP 38 - NMSU 17: On paper, this game should weigh heavily in the Miners' direction. They have far more experience and this group is more established than the core of the Aggies. Plus, NM State didn't play football in 2020. The Aggies will rely on a few games to dust off the cobwebs, while the Miners will bring home the Silver Spade and Brass Spittoon for the first time in Dimel's career. 
LOOK: Here Are 30 Foods That Are Poisonous to Dogs
To prepare yourself for a potential incident, always keep your vet's phone number handy, along with an after-hours clinic you can call in an emergency. The ASPCA Animal Poison Control Center also has a hotline you can call at (888) 426-4435 for advice.
Even with all of these resources, however, the best cure for food poisoning is preventing it in the first place. To give you an idea of what human foods can be dangerous, Stacker has put together a slideshow of 30 common foods to avoid. Take a look to see if there are any that surprise you.