Judas Priest Announces Final Tour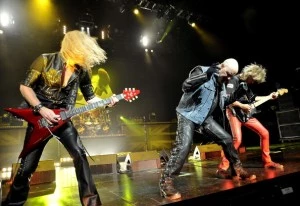 If you've met me or heard me on the air, you know this is a sad thing for me.  One of my favorite bands has announced that their tour next year will be their last.
I've been lucky enough to see Priest several times in the last 20+ years, and am planning to go check out at least a couple shows.
Here's what has been announced already, more dates to come:
9th June Sweden Rock Festival, Sweden
11th June Sauna Festival, Finland
17th June Copenhell Festival, Copenhagen, Denmark
19th June Hellfest, Nantes, France
22nd June Gods of Metal Festival, Milan, Italy
25th June Graspop Festival, Belgium
23rd July HIgh Voltage Festival, London, UK
5th August Wacken Festival, Germany

via JudasPriest.com
Something that isn't said in the press release is whether this is the end of Priest activity or if they will still release albums.  I hope so…