How Young Guns "Bones" Album Came Out So Amazing [VIDEO]
I am obsessed with Young Guns and love their followup album to their debut "All Our Kings Are Dead" and wondered where they wrote and recorded their new album. Somewhere magical must have inspired such an amazing album. Now I know and understand.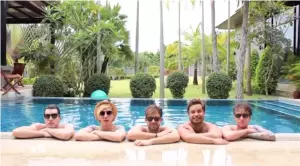 Their newest album, "Bones" was recorded at the Karma Sound Studios in Thailand. A beautiful place right on the beach where you can relax, unwind, and make some amazing rock music. Check this video out which shows you around the place and gets you better acquainted with the band's silly side. Are you excited for Balloonfest yet? I know I am!