Get Rid of PAT Kicks in the NFL? Lou Holtz Gives His Rebuttal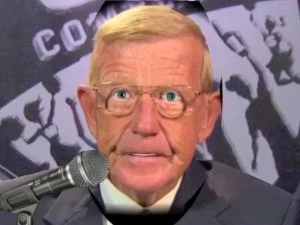 As you might expect, not everyone believes NFL Commissioner Roger Goodell's idea to get rid of point-after kicks is as wonderful and thought-provoking as many believe it could be. With a "shocking" rebuttal, here's ESPN college football analyst, former Arkansas, Notre Dame and Arkansas head coach, Lou Holtz…if we can just keep the microphone dry.
We love us some Coach Lou, though, so we're glad we found a way to get in touch! Here's hoping to many more visits…and towels. We're going to need more towels.